Artist's Chronology
Diana LoMeiHing is born in Hong Kong, lives in China and moves to Italy at the age of ten.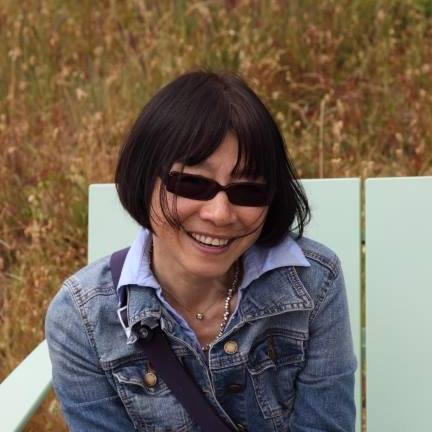 1978
Graduates with High Honors in painting at the Brera Academy of Fine Arts University, Milan. Final thesis discussed with Prof. Raffaele De Grada: The Image ofBuddha, from India to China.

1980-81
Collaborates with writings and illustrations for the book's series "Pagine di Ecologia" of the Province of Bolzano, Italy.

1981
As actress presenter of the documentary Un Salto
In Cina, with the director and documentary maker Giovanni Cecchinato, in collaboration with the Italian Chinese Institute, sponsored by Swissair.

1982-86
Authors 186 Ricette e un metodo facile per la Cucina Cinese, Milan, Italy: Arnoldo Mondadori Editore S.p.A.: translated into four languages with many editions, a best seller in the world.

1983-86
Authors Step By Step Chinese Cooking, introduced by Kenneth Lo. First published in Great Britain in 1983 by Century Publishing Co, Ltd.
Awarded First Prize for Illustrated Book at the 1986 Frankfurt Book Fair, Germany.

1983
Authors The Joy of Chinese Cooking. NY: Greenwich House, 1983.

1984
Author of the script of the Chinese Cuisine and Traditions for a RAI television program "School and Education Department" and participating in the realization with the TV Director Fantoni. Rome, Italy.

1987
Author of the cover and illustration in watercolor for the book Macrobiotica by Michio Kushi, RED Editore, Como, Italy.

1988-Present
Listed as contemporary artist in Modern Art Catalog, Editoriale Giorgio Mondadori, Milan, Italy.

1990
A selected watercolor "Adagiarsi nel monte Fu" published in the Art Magazine Arte of Editoriale Giorgio Mondadori with art criticism. Milan, Italy. Number 210, September.

1989-90
Design for silk fabrics for ties of Tessitura Serica Molinelli of Como, Italy, exclusively for Mark & Spencer of Great Britain.

1992
Authors Chinesisch Kochen. München, Germany: BLV Verlagsgesellschaft mbH.

1995-96
Invitation of KIDP (South Korean Government) as a teacher for the "Design Advisory & Consultation Program" seminar for fabric designs and industrial designs.

1996-97
Creates microfiber designs for Seoul Products Co. Ltd. Seoul, South Korea. Doptik Ag. Zurich, Switzerland, BON-Wahhlstedt, Germany and Denmark.

1997
Studies the engraving workshop at the Brera Academy of Fine Art of Milan with Prof. Angela Occhipinti, technique already studied during the years 1974 - 1978 in the same University Academy of Fine Art with Prof Pietro Diana.

1997
Illustrates the covers of the First and Second volumes of Il Canto di Lode for the Paoline Editoriale Libri, and illustration for the book La poesia del Natale by the same publisher, Milan, Italy.

2000-04
Teaches Art Courses in Liceo Artistico delle Orsoline San Carlo in Milan, Italy. She studied there for five years (1970 - 1975) before University.

2001-05
Author of articles, poetry and watercolor paintings are published on Pagine Zen, news on Zen and on Asian Culture. January 2001 - January 2005.

2007
Author of an etching-ceramolle for the Art Magazine Grafica d'Arte, n. 72. Edi.Artes. Milan, Italy. October - December

2009
Person designated as a member of the management committee of the Brixen Civic Gallery, Brixen, BZ, Italy.

2011
Project and Curator with Christine Matha in "Der geheime Garten-Il Giardino Segreto-The Secret Garden" for an Event Exhibition with International Artists in Open Air in the Historical Elephant Hotel Garden in Brixen, BZ, Italy (First time Art Exhibition open to the public). May through November.

2011-14
Initiates, organizes and curates a series of exhibitions and events supporting the Asian elephant in collaboration with the Museum of Natural History of Milan, Museum of Chiusa, Asian Elephant Foundation TAEF, WWF ITALIA and Brera Academy of Fine Arts University in Milan. Donation of 20 Art paintings for auction for the Art Project Save the Asian Elephants in Natural History Museum of Milan and in other galleries and museum in North Italy.

2012
Donation for auction of Ten Art works for the Art Project of Artist Ingrid Mair Zischg for "L'arte non trema" in different Italian cities (Brixen, Merano, Bologna, Torino, Modena) to help the students after the earthquake in Emilia to rebuild their school. November.

2014-Present
Commences artistic activities between Italy and the United States.

2016
Artist in residence at Red Gate Gallery in Beijing, China. November 2-30.

2017
Gives a major presentation on Chinese culture during Expo Milan 2017.
Selected as an artist of the Portland Art Museum-Rental Sales Gallery, which has shown her paintings since 2017.

2019
Persone, an RAI3 program features Diana's career as an artist, writer, poet and proponent of Chinese culture. September, 2019.



---
Artist's Exhibitions

Selected Solo and Group

1979
Montagne Mari e Tartarughe. Galleria Goethe Galerie, Bozen, BZ, Italy. January 10 - February 28.

1979
LoMeiHing. Watercolor Paintings. Municipal Gallery, Chiavari, GE, Italy. November.

1977-80
La Tartaruga Pietrificata. Watercolor paintings. Galleria Meneghina, Milan, Italy. May 15 - 29.

1981
LoMeiHing. Watercolor Paintings. Galleria Meneghina, Milan, Italy. November.

1987
LoMeiHing. Watercolor and Poetry. Circolo Carducci, Milan, Italy. Sponsored by Associazione Italia Cina. April 13 - 30.

1987
LoMeiHing. Watercolor painting. Civic Gallery of Brixen, Brixen, BZ, Italy.

1989
LoMeiHing. Watercolor paintings. Il Nuovo Fanale, Genoa, Italy. November 4-December 1.

1989
Cina e Cinesi. A two Persons Art Exhibition in Salone della Proloco, Inalzo, VA / supported by Chinese General Council of Milan and Associazione Italia Cina, Milan, Italy. May 14-May 30.

1990
LoMeiHing. Watercolor and Poetry. Il Circolo Artistico e Culturale, Ortisei - St. Ulrich, BZ, Italy. August 10-25.

1994
LoMeiHing. Watercolor paintings. Galleria Municipale, Appiano BZ, Italy. April 29 - May 5.

1995
LoMeiHing. Watercolor painting. Cassa di Risparmio Gallery, Caldaro, BZ, Italy. May.

1997
Echi d' Antico. Watercolor painting. In Cascina Grande, Spazio Espositivo, Rozzano, MI, Italy. Sponsored by the Department of Culture and the Municipality. April-May.

1997
LoMeiHing - Zheng Rong. Watercolor painting. Spazio Espositivo Guicciardini, Milan, Italy. Sponsored by Association Italy-China, Province of Milan and the Consulate General of China in Milan, Italy. June 26July 10.

1997
LoMeiHing: Lo Spirito della Roccia. Watercolor painting. Il Torchio di Porta Romana Art Gallery, Milan, Italy. October 22-November 8.

1999
LoMeiHing - Zheng Rong. Milano - Colori al Femminile, Associazione Italia Cina, Milan, Italy. May 18-June 17.

1999
Sussurri. Watercolor painting. Arte Giappone Gallery, supported by Japanese Association, Milan, Italy. November 18-December 4.

2001
Sogno. Paintings, Sculptures and Poetry. Galleria Artemondo, Saronno, MI, Italy. January 20-February 17.

2001
Voli di organza. Nettuno spazio d'arte. Villa Litta, Milan, Italy. September 13-November 13.

2002
LoMeiHing: Al di la delle Nubi. Watercolor paintings. Spazio Santabarbara Gallery, Milan, Italy. November 22-December 4.

2003
L'aria delle colline e il vino come colore e poesia.
Two Persons exhibition. Spazio Arte Caligaris Antichi Granai del Castello, Costigliole d'Asti, Asti, Italy. November 7-30.

2003-04
Berge Gewasser Schildkron - Monti Acque Tartarughe LoMeiHing: Aquerelle und Andere Dinge. Mineralheibad Andeer, CH, Switzerland. November 22, 2003-July 26, 2004.

2004
Four paintings Mixed Media on canvas. International Artexpo Monte Carlo 2004. Sponsored by Santabarbara Arte Contemporanea of Milan. Monte Carlo.
March 18-21.

2007
A two-person exhibition "PENTA" with Maria Luise Campei in the Civic Art Gallery in Brixen BZ Italy in December 2007.

2009
Postcard from Shanghai. Mixed media art. Galleria Portici, Brixen, BZ, Italy. Sponsored by "Circolo Artistico San Erardo" of Brixen. December 14-24.

2013
Heaven's Gate. Mixed Media. Galleria Kompatscher, Brixen, BZ, Italy. October 3-November 3.

2015
Aqua Montis: Diana Lo Mei Hing - Bill Hornaday. Art Studio 38 Gallery, Milan, Italy. Sponsored by ShouLaShou, Chinese Association of Milan. February 15-22.
And in Galerie Kompatscher, Brixen, BZ, Italy. March 7-15, 2017.

2017
Songs of Freedom: Inside & Out. Two simultaneous Mixed Media Solo Exhibitions. SBLU Spazioalbello Gallery and San Vittore Prison's Circondary House,Milan, Italy. November 7-21.

2017
My Secret Garden. SBLU Spazioalbello Gallery, Milan, Italy. November 10-22.

2017-18
Ten photographs selected. Blue Sky/Oregon Center for Photographic Arts. Portland, Oregon, USA. April 2017 - April 2018.

2019
Forty photographs in a two-person exhibition. Milan's Braidens National Library - Mediateca. Santa Teresa, Italy. This exhibition was also part of MilanPhotofestival 14th, and it was covered nationally on RAI's TG3. May.

2019
Visions of Diana. Fifty paintings and forty photographs. Solo exhibition. Portland Chinatown Museum, Portland, Oregon, USA. November 2019-May 2021.

2020
Breathing Tao. Sixty paintings. ArtReach Gallery, Portland, Oregon, USA. November 2020-February 2021.

2021
Mountain and Dragonfly. Forty new paintings, most of which were painted during the pandemic. Portland Chinatown Museum. Portland, Oregon, USA. August-October.

2023
The Hidden Colors of the Moon. Three paintings
are selected for this international exhibition. The International Contest - Calanca Biennale. Switzerland.




* * *




An acclaimed contemporary artist and illustrator in Italy and Northern Europe, Diana LoMeiHing splits her time between Portland, OR and Milan, Italy. Her frequent working environment in Italy and in Switzerland were a cottage in Splügen, Switzerland and in Brixen Bz, Italy in the nord alps, close to the Dolomites, and she finds the dense forests, rivers and volcanic peaks of the Pacific Northwest very much to her liking. The exhibition of her work at the Portland Chinatown Museum was the first solo show of her multimedia work in the Northwest. Her work can also be seen in RSG Rental Sales Gallery of the Portland Art Museum. Born in Hong Kong to a family which fled China to Italy during the Cultural Revolution, the museum and our Portland community warmly welcomes her.

—Jacqueline Peterson-Loomis, PhD, Co-Founder and Retired Executive Director of Portland Chinatown Museum, Portland, OR